Momentum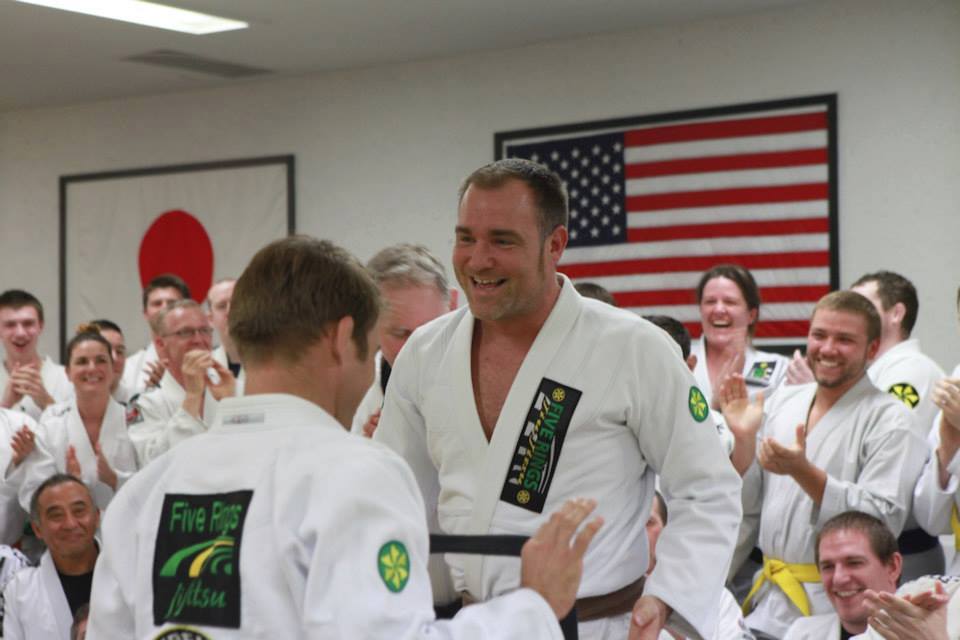 Coach Eric Becomes Professor Eric
Earning his Black Belt on Thursday, May 15, 2014
There comes a time in every jiu jitsu athlete's journey when an understanding is reached. They must come to terms with the fact that learning the gentle art is a lifelong undertaking and that one is never 'finished'. There is no final exam, no graduation. It is said that a black belt is a white belt that never quit. What takes longer to process is that achieving the faixa preta is truly just the advent of a new set of challenges. Another step in the pursuit of mastery; an open door to share the beauty of the martial art.
Many who take on the mantle of jiu jitsu practitioner can relate to the challenges that present themselves when trying to maintain consistent training. Life offers up a variety of obstacles that make it easy to get sidetracked: work, family, and other responsibilities may take precedence in the moment. Eric Dorsett is someone who can offer a laundry list of distractions that took him away from the mat. He started training back in 1993. Twenty years later he has earned the rank of black belt in BJJ. A remarkable member of the community and a natural leader, Eric has worn many hats in the process of reaching this milestone. He has been a competitive athlete, well-respected coach, devoted father and husband, entrepreneur, and reliable friend.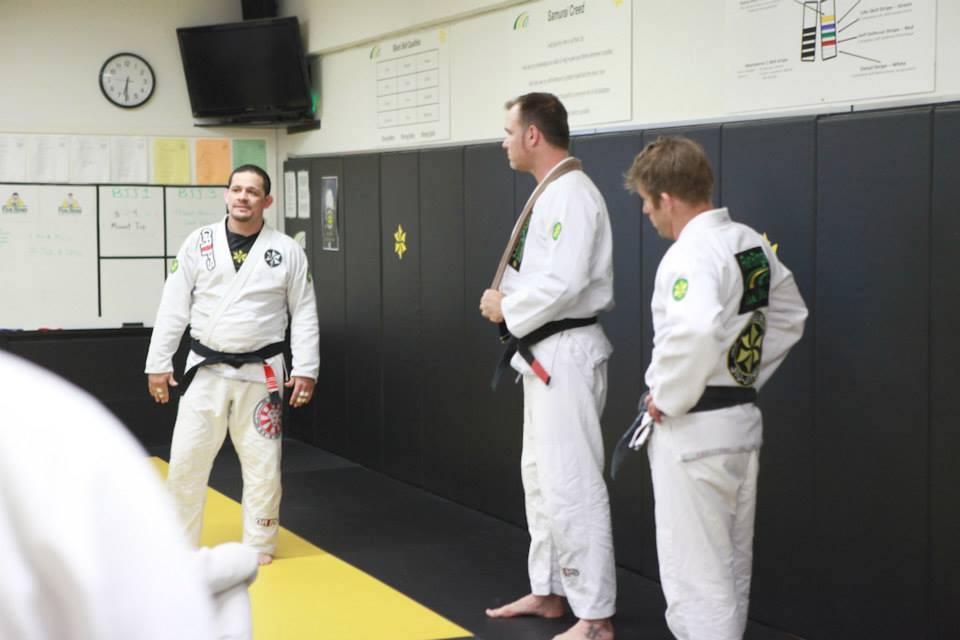 Professor Saulo
Recognizing Eric's Contribution to Jiu Jitsu
On Thursday, May 15, 2014, Coach Eric Dorsett received his black belt from Professor Tom Oberhue and Professor Saulo Ribeiro. Some say "Jiu Jitsu is made to make you quit" ... Coach Eric persevered ... constantly moving forward, pushing himself, and bettering himself ... and many others along the way. Congratulations to an amazing coach, friend, leader, and person. Five Rings wouldn't be the same without your energy, compassion, and smile. This is a huge achievement individually, and for Five Rings as a whole. It was fantastic having Professor Saulo Ribeiro visiting in order to be a part of Eric's big achievement. On Tuesday, May 20, the academy took time to celebrate Eric's new rank and thank him for his profoundly positive influence. Huge congrats. You embody the principles of Five Rings and Ribeiro Jiu Jitsu - family, honor, loyalty, respect, discipline, and attitude ... with a whole lot of love too.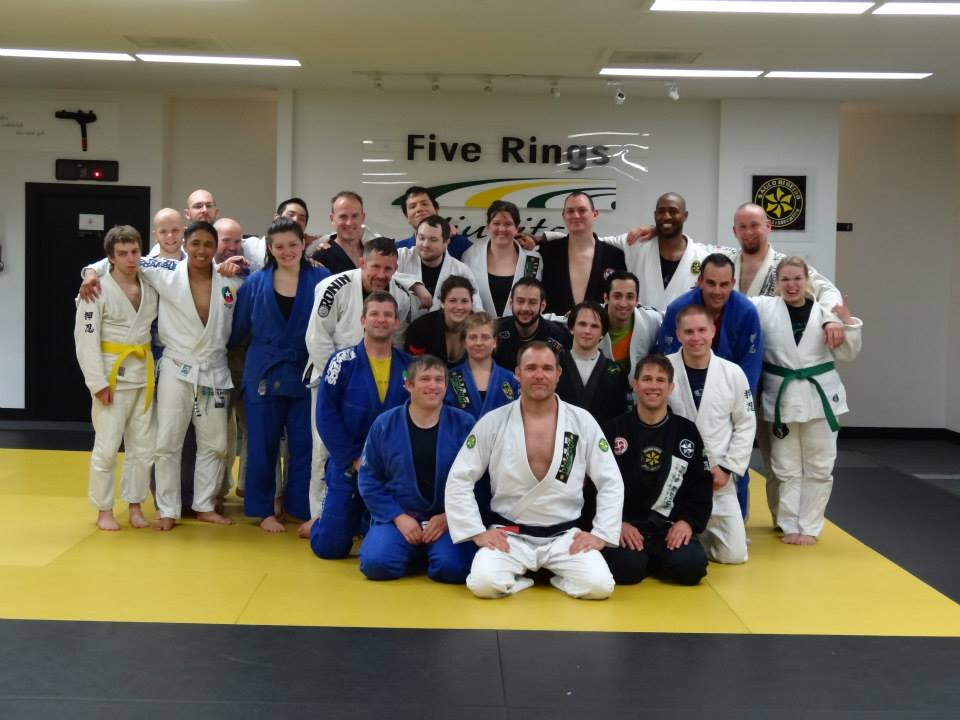 Special Academy Time
Welcoming Professor Eric into the rank of Black Belt
with a Private Rolling Session - Tuesday, May 20
HUGE Congrats! ! !
Many members of the community can and have spoken about Eric being the reason they started their own jiu jitsu journeys. His passion and enthusiasm for the sport is infectious. The term "ignition coach" is one that aptly describes him as well. His ability to light a spark in new students is truly amazing. Congratulations Professor Eric for earning the belt you'll wear the longest - your black belt. Enjoy the journey and keep doing what you do - inspiring others to become passionate about Jiu Jitsu. OSS! ! !
For a FULL album, go HERE.