Five Rings took 9 athletes up to the Revolution Tournament at PLU this weekend and brought home 10 medals. GREAT JOB to all our competitors ... they all displayed great heart, technique, and sportsmanship! To reference the movie 300 - even though our numbers were small, all were true soldiers.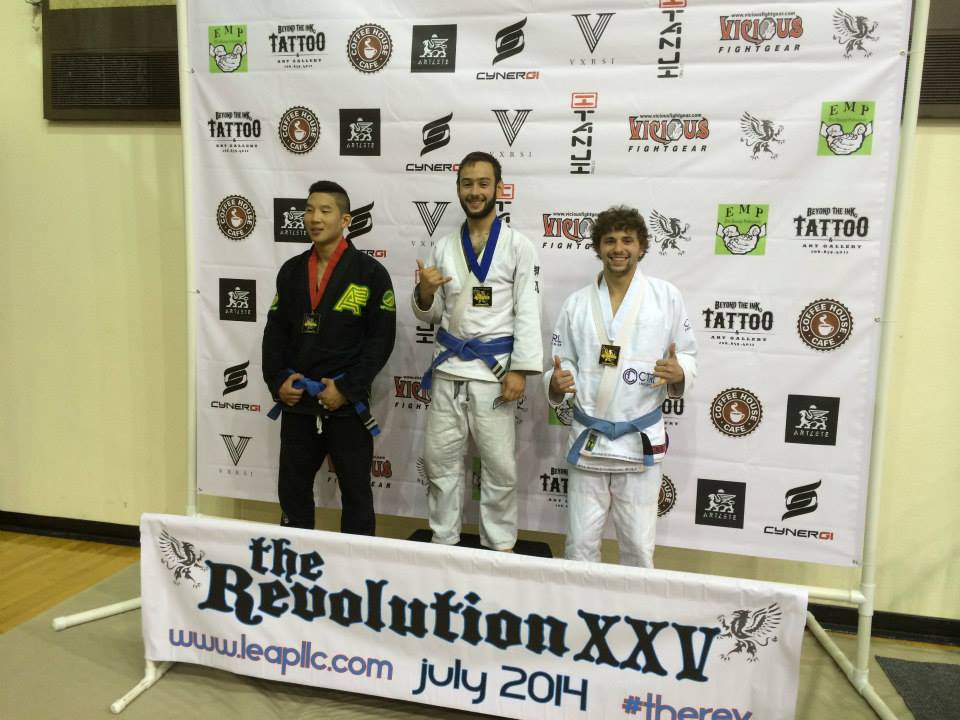 Will Acton on the podium - Congrats!
Highlights:

Gunnar Parish and Will Acton both took double gold - winning in both Gi and No-Gi.
Louisa Bruschi took first - scoring a cumulative total of 54 points, getting a sub, and giving up 0 points en route to her 1st place win.
Detailed report:
Gunnar Parish - 1st in Gi, 1st in No-Gi, winning 6 matches
Haley Vann - 2nd in Gi
Robert Wolfe - 3rd in adult purple belt light weight, 2 wins, 1 submission, 1 loss by single advantage point
Will Acton - 1st in Gi adult blue belt light weight (3 matches) and 1st in No-Gi intermediate feather weight (4 matches)
Louisa Bruschi - 1st in Gi female belt middle weight and 2nd in No-Gi advanced middle weight
Jonathon Davidson - 2nd place in his first Gi adult blue belt light weight competition (2 wins, 1 loss)
Frank Camacho - 3rd place in Gi adult white belt light weight (3 wins, 1 loss, 2 submissions)
Dan VanDetta went 1 - 1 in his gi division (1 submission)
Ole Stockly had 3 matches, won 1 and lost 2 in his first tournament
Brian Thai competed in his first tournament and did a great job of getting out there and challenging himself (honorable mention)
Tons of W & L (Wins and Learns) at the Revolution
See the Full Album HERE