Kids Friendship Tournie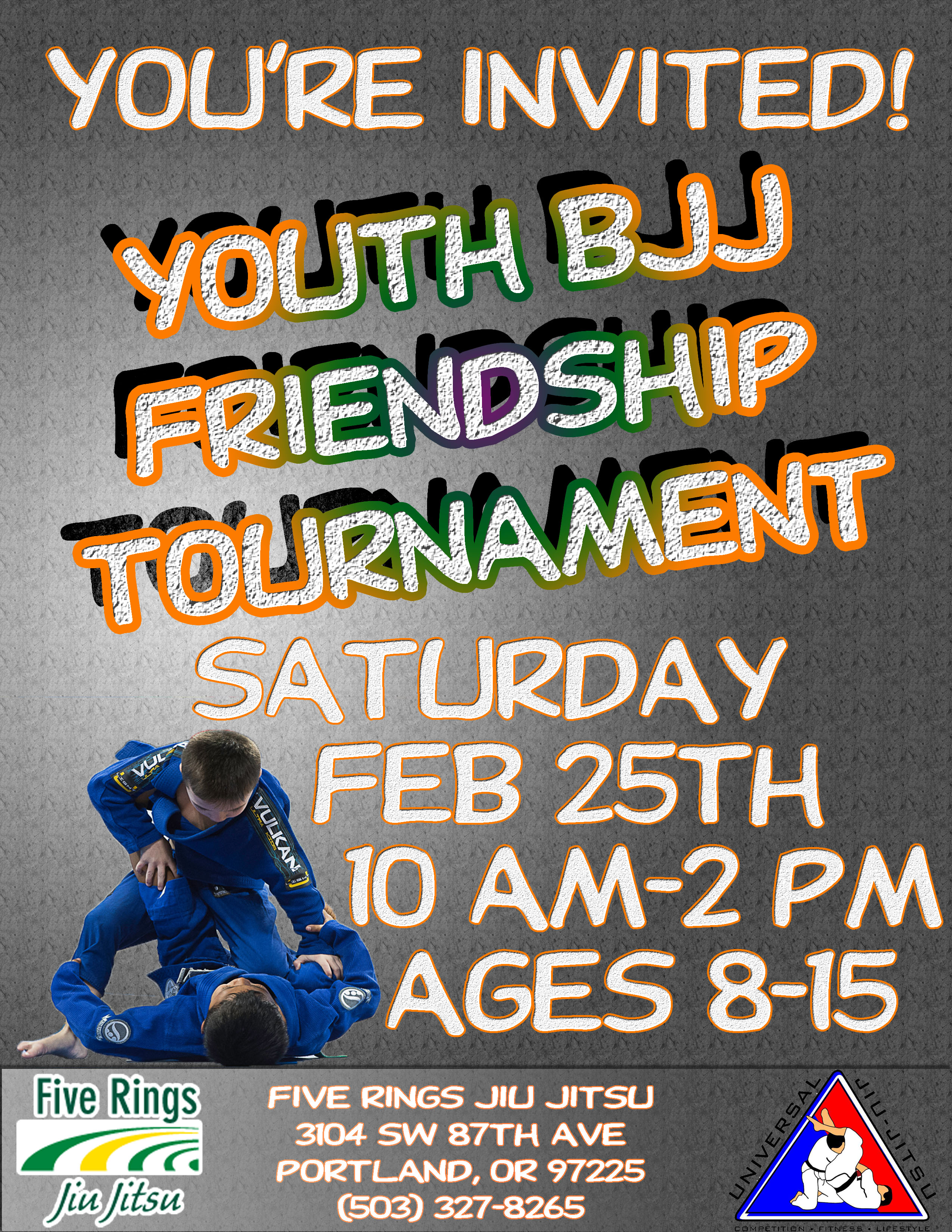 Special Details for the actual event:
Our goal is to have lots of fun, low-stress, educational matches for our young athletes so that they come away with a positive tournament experience. We are hoping to get each athlete at least 3 matches minimum. We'll do everything we can to make this happen. The tournament will run in a "pool" format (instead of a bracket format). Translation, if a child is in a pool of 6 athletes, she / he will face everyone in the pool - thus having five matches regardless of record.
We're hoping to have an athlete / family be "in and out" of the tournament in less than 2 hours.
Please arrive 20 minutes prior to your projected start time. We STRONGLY recommend that children come already wearing their gi uniform; locker room space is limited.
Athletes 80 pounds and heavier - your start time is 10 am | your matches will be 4 minutes long
Athletes weighing less than 80 pounds - your start time is 11:30 am | your matches will be 3 minutes long
We strive to be good neighbors, so please be sure you're parking in a non-designated parking spot - other tenants use our parking lot too. There will be extra parking behind our building and on the street. We ask that folks from visiting academies carpool as much as possible to help keep the number of vehicles down.
Coaches are responsible for communicating with their athletes about the rules and the details of the event. See linked document on IBJJF on "Technical Fouls & Illegal Moves" HERE - pay close attention to the first two columns (4 - 12 and 13 - 15).
We encourage all coaches and parents to use positive coaching when at ringside - negativity, hostility, or unsportsmanlike coaching are not condoned.
_________
What: A youth friendship tournament in order to give kids more tournament exposure and mat time
When: Saturday, February 25, 2017, from 10 am - 2 pm
Who: Boys and girls between the ages of 8 and 15. All abilities welcome
Cost: Free for athlete(s) | * each participating academy must furnish at least 2 adults to attend the referee clinic and by available to ref during the tournament
Format: Gi Jiu Jitsu using the rules used at the Revolution and IBJJF tournaments
Goal: To get children as many rounds as possible (4 to 5) in a friendly, non-threatening, fun environment
Hosts: Five Rings & Universal Jiu Jitsu

Venue: Five Rings Main Academy - 3104 SW 87th Ave., Portland, 97225
Head Coaches
Please email Coach Tom Oberhue at coach@5rjj.com to get a pre-registration form for your academy + athletes.
Pre-registrations cut-off is Thursday, February 23, by 6 pm. There will be no registration at the door. Brackets will be already established based on the pre-registration info.


Weight differential
• Do weights of all kids
• Try and keep within 8 to 15 pounds within the same level grouping depending on the total weight of the children.