Tuesday, December 19. 2017, was a HUGE night for Five Rings. Two black belts were awarded. Huge congratulations to Jon Silverson and Micah Caputo on earning their black belts ... a BIG achievement.
Earning a black belt in Jiu Jitsu is a life time accomplishment. A ton of work, effort, and heart is required. It most certainly doesn't happen by accident. Both athletes have displayed grit and stick-to-it-ness in their Jiu Jitsu journeys. What is also beautiful, is the fact that both were on the mats training the next day ... inspired to keep their growth and development going. Bravo!
To see the FULL album, go HERE.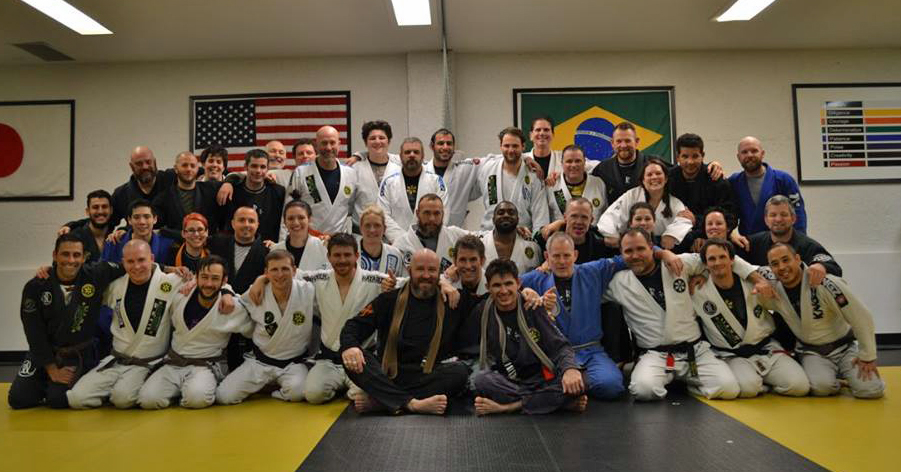 Other people's success is our inspiration. An excited room for our two new black belts!
Jon Silverson
Jon has been wrestling since he was six and doing Jiu Jitsu for over twenty years. Jon began training Jiu Jitsu in 1996 in a garage in San Diego. He has trained Jiu Jitsu in Oregon, Washington, California, Kentucky, Pennsylvania, New York, Florida. He's know Eric since 2001. In 2005 he began training with Chris Wolford. Chris had a powerfully positive influence on his growth and development. Jon's Jiu Jitsu influences:
Chris Wolford

Eric Hemphill

Eric Dorsett

Nathan Jeffers

Tom Oberhue
Since beginning at Five Rings in 2015, Jon has lost 70 pounds and enjoys Jiu Jitsu more than ever. Jon embodies the "never quit" attitude, is a phenomenal Jiu Jitsu source of knowledge and experience, and is always looking to share and help folks learn more about Jiu Jitsu. .
Micah Caputo
Micah has over ten years of Jiu Jitsu experience and his grit, tenacity, and determination are well know. It was fantastic to have over forty folks in the room celebrating Jon and Micah's success.
Micah began training in 2007 at McMahon BJJ in Fort Collins CO. He lost all of his competition matches at white belt, not winning a match until his 4th tournament.
In 2013, Micah switched to Dark Horse BJJ to train with Matt Jubera because he wanted to do more competition oriented training and I wanted to train with the best.
In 2014, he moved to Oregon and began training at Five Rings. His Jiu Jitsu influences are:
Grant Gaither - My first friend on the mat. He improved very quickly because he didn't count wins, he counted successfully executed techniques.

Nick Klein - Black belt from Arvada. Training with him I learned some technical jiu-jitsu that I still use today, but most importantly he demonstrated how to have fun, be technical, and do joy-jitsu.

Josh Weissman - A world class wrestling coach I trained with as a blue and purple belt. He taught me many lessons about competing that didn't make sense at the time but built a foundation for competing years down the road.

Matt Jubera - Watching him train I saw how a world class athlete develops and learned more modern training methods.

Tom Oberhue - Shared the growth mindset with me which helped to put all the other lessons I had learned over the years into practice.
It was an inspiring night! ! ! Congruatulations to Jon, Micah, and the entire Five Rings floor for the achievement. The future is bright at Five Rings.
Keep doing ... daily ... forever! ! !