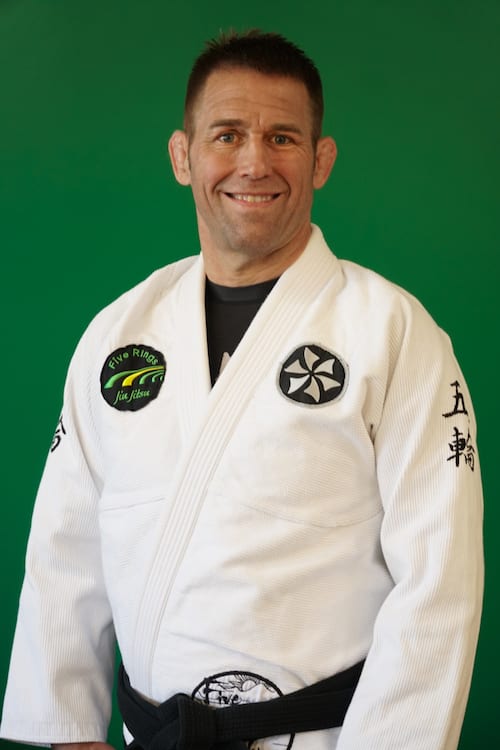 Tom Oberhue
Hi, I'm Tom!

I began training martial arts in 1985 and Brazilian Jiu Jitsu in 1993.

Five Rings is my purpose in life … I want it to be a place where people come together to learn, grow, and support each other.

I consider myself lucky to do what I love: sharing my passion for Jiu Jitsu while helping people to learn and grow. I strive to create a positive, thoughtful, challenging and athletic environment whenever I teach. Five Rings Jiu Jitsu is a dream come true.
Biography
25+ years actively training in martial arts
12+ years Head Coach / Owner of gym
12 years public school teacher
> 25 training trips to Southern California since 1995 to train BJJ
4 trips to Brazil to train with Professor Rodrigo Pagani / Curu Curu Land
2015 Bronze – Master Worlds BJJ Championship: Black Belt | Master 4 | Middle
2014 Silver – Master Worlds BJJ Championship: Black Belt | Master 4 | Middle
2014 Bronze - Pan-American BJJ Championship: Black Belt | Master 4 | Middle
2013 Bronze – Master Worlds BJJ Championship: Black Belt | Senior 2 | Middle
2013 Silver - Pan-American BJJ Championship: Black Belt | Senior 2 | Middle
2012 Silver - Pan-American BJJ Championship: Black Belt | Senior 2 | Middle
2012 Bronze - Pan-American BJJ Championship: Black Belt | Senior 2 | Open Class
2011 Gold – Las Vegas International Open: Black Belt | Senior 2 | Middle
2011 Gold – Las Vegas International Open: Black Belt | Senior 2 | Open Class
2010 Gold – Las Vegas International Open: Black Belt | Senior 1 | Medium Heavy
2010 Gold – Las Vegas International Open: Black Belt | Senior 1 | Open Class
2010 – 2014 Referee - International Brazilian Jiu Jitsu Federation (IBJJF)
2010 Functional Movement Screen (FMS) Certified
2009 Silver - Pan-American BJJ Championship: Black Belt | Senior 1 | Middle Wgt.
2009 Head Coach of Five Rings Jiu Jitsu
2009 Began training under Sensei Saulo Ribeiro and Sensei Xande Ribeiro
2008 Performance Enhancement Specialist (NASM - PES)
2008 Sports Enhancement Specialist (USA Weightlifting / Olympic Lifting)
2008 Mike Boyle Strength and Conditioning Mentorship - Boston, MA
2006 Certified Personal Trainer (NASM - CPT)
2005 Co-creator: Combative Conditioning DVD series
2004 Co-creator: Cross-Side Top - Pressures and Concepts
2004 Black Belt in BJJ (Machado - Haueter)
2004 SBGi Full Instructor / Head Coach
1998 - 2009 Head Coach / Owner of SBG Beaverton / IMPACT JJ
1997 Graduate of 1st Instructors' Candidate Course (ICC) at SBG
1995 Master's in Education from Portland State University + Professional Teaching License in Oregon
1994 Black Belt in Wun Hop Kuen Do Kung Fu
1993 Began coaching youth martial arts
1993 Began training Brazilian Jiu Jitsu
1991 Graduate from the Honors College / University of Oregon
1985 Began training in martial arts